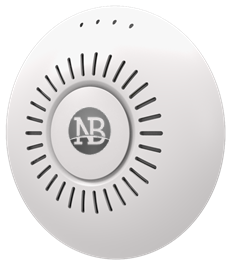 Newbridge WaveStation 3812-N Wi-Fi Access Point
High Performance, 802.11n Mid-Range Smart Wi-Fi Access Points
Newbridge WaveStation 3812-N is the indoor ceiling mount wireless access point developed by Newbridge. It supports both FAT and FIT modes. As a FAT AP, WaveStation 3812-N can run in standalone mode while as a Fit AP, WaveStation 3812-N must be used together with wireless controller.
WaveStation 3812-N designed with enhanced RF transmission technology, provide greater coverage and higher signal quality, and can be widely used in carrier, enterprise, industry and other markets.
WaveStation 3812-N support 802.11b/g/n protocol standard, built-in 2x2 MIMO antenna design, and support up to 300Mbps data transfer rate.
WaveStation 3812-N uses the industry best chipset and component in order to provide excellent performance and competitive price. Designed with plastic casing, built-in antenna, support both ceiling and wall installation.
WaveStation 3812-N uses green energy-saving design, providing 500mW transmit power at the same time, the whole power consumption of less than 10W, supports PoE power input.
Supporting centralized management 
If the WaveStation 3812-N is used with wireless controller as a Fit AP, most of management packets and data packets are processed by the Newbridge WaveController. The WaveController controls all Fit APs by using the CAPWAP so that status of all devices can be known about clearly. Compared to a traditional Fat AP, a Fit AP and an AC greatly help system administrators to manage the whole network. 
Supporting automatic version upgrade 
The WaveStation 3812-N can automatically communicate with the WaveController in a network, and download the latest software versions to the AP. Such operations do not require manual intervention, thus reducing workload of network maintenance. This feature is especially important to a large-sized network. 
Supporting IPv6 
The WaveStation 3812-N supports the IPv4/IPv6 protocol stack. It can be connected to WaveController through an IPv6 network. As a result, the networking mode is more flexible, future network development needs are met, and investment of customers is protected. Also, the WaveStation 3812-N enables wireless users to access networks over IPv6. 
Enhanced RF technology 
Support maximum transmit power of 27dBm, provides greater coverage, reducing deployment density. Improved receiver sensitivity, provide better communication with the tablet, mobile phones and other handheld devices. Use 802.11n 2x2 MIMO wireless module, maximum data rate up to 300Mbps, provide high-speed broadband access to client. 
Low cost installation 
Suitable for ceiling and wall mount installation, installation accessories simple and practical, provide flexible deployment.  
Easy to use and easy maintenance 
Under distributed deployment, WaveManager can be used to unify wireless access point software. Under centralized deployment, WaveController allow unified configuration, RF strategic planning and software version upgrades.  
Both distributed and centralized deployment can be used to detect AP failure through the WaveManager software, hence reduce resolution and troubleshooting time. 
Supporting user isolation policy 
The WaveStation 3812-N support wireless user isolation from another. After this function is enabled, the two wireless clients cannot directly communicate with each other so that they are shifted to access the upstream wireline network. With this function, operators can force wireless users to be charged or authenticated on the specified gateway or server, thus providing hot spot applications. 
Radio Pattern
Hardware
Software